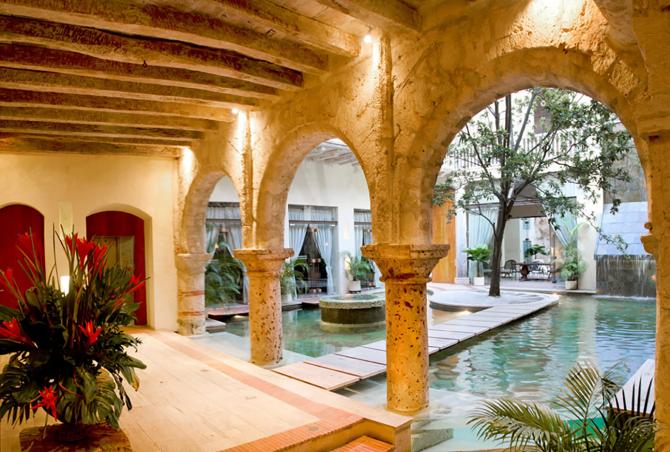 Cartagena de Indias, Colombia is known for its tropical Caribbean breeze, but you will definitely fall in love with the historic stone walled old city, the colorful architecture and the beauty and warmth of the Colombian people. You will want to stay in the vibrant Old City where all the action is and take day trips to the islands which are about a 40 minute boat ride away. Experience the scenery on every corner and extraordinary little vistas that make Cartagena just a trove of wonders. It is a city of celebration and wonder and it's no surprise it's been host to some of the most spectacular weddings and legendary parties.

WHAT TO DO IN CARTAGENA


Obviously as a world traveler my first advice is to take long walks and get lost exploring. There is so much to see in the old town, pop into the different " cafecitos" coffee shops, talk to locals, enjoy the architecture and colored walls. Notice the color contrast between the bougainvillea hanging off the terracotta terraces.
Some of my favorite shops included Mercedes Salazar, Silvia Tcherassi- You can't talk about Colombian fashion without mentioning Tcherassi. Born in Barranquilla and now based in Miami, she's shown her collections on the runways of Milan and Paris. I've shared some of my favorite designs from Colombian designers on instagram. 
Chiqui House Boutique - Considered one of the most beautiful stores in the world and the owner is a legendary hostess to some of the most lavish parties in town.
You also don't want to miss the emerald shopping if you love jewelry.

Of course, you can't discount the amazing artisanal vendors on the streets selling Panama hats, and mochilas – created by the indigenous Wayuu tribe of the Guajira peninsula, which borders Colombia and Venezuela. If I could I would purchase one in each color!


Island Hopping: Have your hotel organize the boat trips to: Isla del Rosario and another Day trip to Isla Barú, where some of the world's boho chic jetsetters have their rustic private beach homes. How I loved to sit by the beautiful beach and enjoy the most delicious fresh fish right from the water to my plate, but sometimes there can be some bumpy waves on the boat ride back! 
Cartagena's gold museum, Museo del Oro Zenú, is another old-city arts destination that's worth a stop. Reopened earlier in 2023 after a renovation, the gallery shares the history and art of Colombia's Caribbean region, extending back more than 6,000 years.

WHERE TO EAT IN CARTAGENA

My dear friend gave me this tip and I will always appreciate this one. She said "don't forget to stop for coffee and a pandebono, a delicate puffy cheese bun that's the specialty at La Esquina de Pandebono". Delicious and authentic as it gets.

Restaurante Bar La Vitrola - One of my favorite restaurants in the world. I spent one new year here a while back and it was great fun and fantastic food. Enjoy the Cuban band and get your salsa on.

Celele- Ranked as one of the top 50 Restaurants in Latin America. It's creative Caribbean fusion food and many people will tell you it's the best restaurant in Colombia.


WHERE TO STAY IN CARTAGENA

Sofitel Legend Santa Clara Cartagena is ideally located for exploring the arts in the urban center.

Hotel Casa San Agustin
Honestly it doesn't get any better than this hotel if you're looking for where to stay for luxury in Cartagena. This boutique luxury hotel is one of the Leading Hotels of the World. It's composed of three beautiful white houses, connected with bright clay rooftops, and a gorgeous view of the clocktower.
This boutique hotel from acclaimed Colombian fashion designer Silvia Tcherassi is set in a 250-year-old restored colonial mansion with original stone-walled rooms and private balconies. There are only 7 rooms, but 4 pools, creating an intimate atmosphere like none other in the city.

NOTE ON SAFETY

I felt safe in Colombia. — Cartagena is a very popular tourist destination so security is in place but as I always say you still always need to be careful as when traveling internationally.
Colombian designer Johanna Ortiz crop top on Moda Operandi