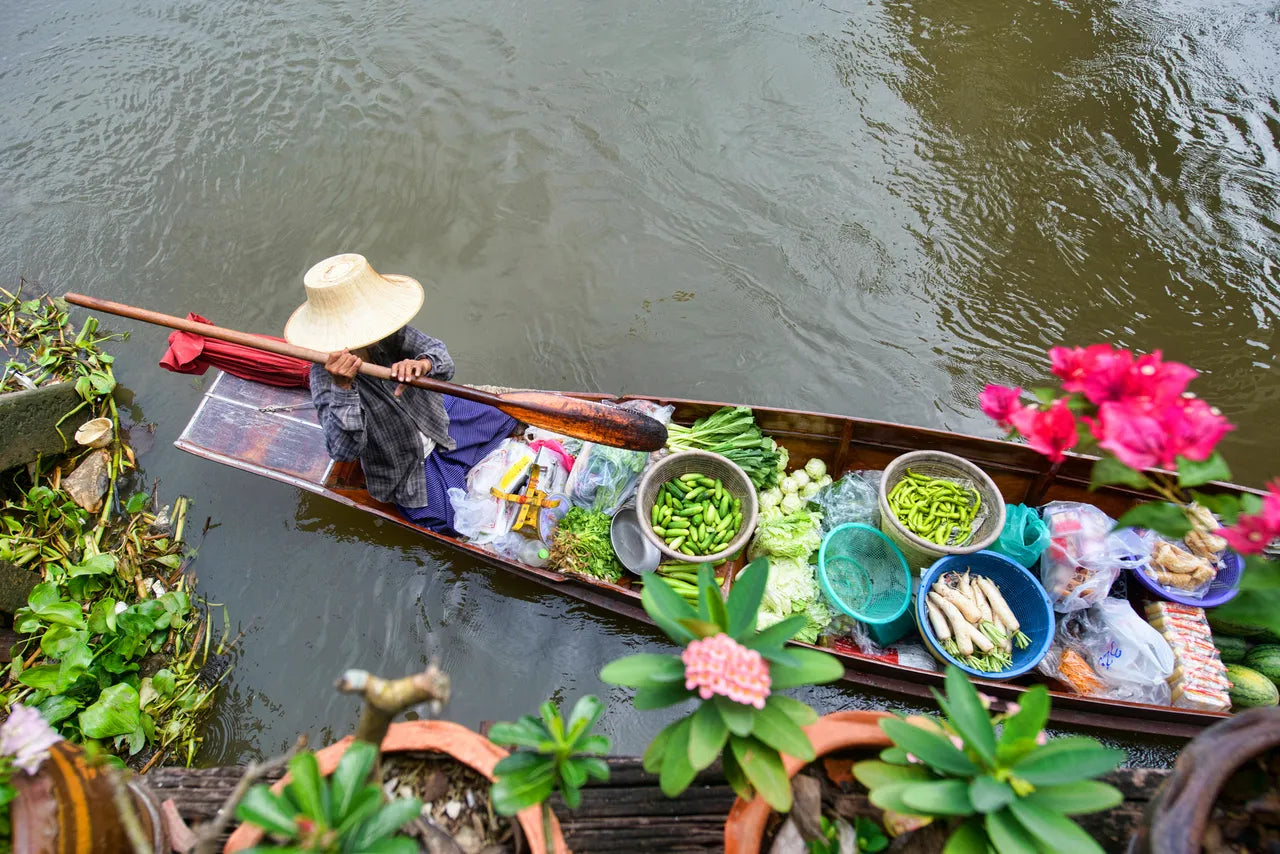 Thailand has become a tourist trap and its popularity comes with big crowds and unfortunately, commercialization that takes away from the soul and spirit of such a beautiful country. You have to go off the beaten path to enjoy the magic. There are plenty of big-name resorts and hotels, so I want to share some of the lesser-known options that I truly treasure and am excited to share that firsthand information with you. 
A gem of a place to stay- Cape Kudu Hotel Koh Yao Noi 
https://www.capekuduhotel.com/robinson-crusoe/
Situated on the eastern coast, the boutique property, is a member of Small Luxury Hotels of the World, and has the boho-chic island vibe we all dream of. Check out the Robinson Crusoe, suite, for an extra romantic indulgence. 
Avoid the popular James Bond Island and visit Koh Kudu instead. Here I enjoyed learning about the artisanal crafts of the locals. I took a batik painting class on gorgeous silky textiles and of course visited all the markets to find beautiful decorations for interior decorating, and gifts.  
Tips on Thai Cuisine. 
Not all Thai food is the same, it varies by region ranging from very spicy to mild. In the south the dishes tend to focus on seafood and sauces with coconut. One of my favorite dishes that was recommended by a local, was yellow crab curry in coconut milk. It's very important to talk to the locals to get the best information on where to enjoy the most authentic food, sometimes the little hole in the walls are the best, as Anthony Bourdain would say!  
Another part of Thailand that is absolutely gorgeous and less known compared to Phuket is Chiang Mai, the mountainous northern capital. For an animal lover like me this was truly an unexpected surprise, as we spent our time visiting elephant sanctuaries.
Stay at the Four Seasons Resort
Overlooking stunning rice paddies, make sure to enroll in their on-site cooking school to learn the secrets to Northern Thai cuisine.
One Night In Bangkok
Actually you need more days here to get a taste of the city.  I spent four days which is enough to experience and see the floating market ( and yes here you will see a lot of tourists) but it's part of the Thai experience. 
Temple visits include: 
Wat Phra Kaeo - home to a massive Emerald Buddha and is considered the holiest shrines.

Wat Po for a glimpse of the reclining Buddha.

Wat Traimit in Chinatown holds a solid gold Buddha. 

Wat Arun is also one of the most iconic landmarks in the country.
The Floating River Markets:
The ones I recommend are Taling Chan, Amphawa, and Damnoen Saduak- Try the local delicacies, and overwhelm your senses!  
Another important travel tip:
Consider visiting Thailand during The Lantern Festival  for more information  check out  the link below "Exotic Voyages" for a complete travel guide.
"The mesmerizing pictures of Loi Krathong and Yi Peng festivals in Thailand postcards are nothing, compared to the magnificent reality in Chiang Mai you will be able to see with your naked eyes. Join in the cheering atmosphere filled with twinkling lights from water lanterns, sky lanterns, candles, and the happy glow in people's eyes." 
Very Special Places to Eat in Bangkok
Chef "Ton" Tassanakajohn has done his share of giving Thai cuisine an uplift, laying it on white table-clothed splendor at Le Du, the one Michelin-starred establishment that beautifully reinterprets Thai cuisine with the use of Western cooking techniques. But in his latest venture Nusara, the celebrated chef takes fine Thai food back to its roots, focusing on intricate flavors served in a sophisticated but still homey setting.
Chef Pichaya "Pam" Utharntham draws inspiration from her Thai-Chinese heritage to create a truly unforgettable dining experience.
Shopping in Bangkok
Did you know that the shopping mall ICONSIAM is one of the biggest malls in the world, according to the global MIPIM Awards 2021? It is impressive, to say the least! 
Other important links: