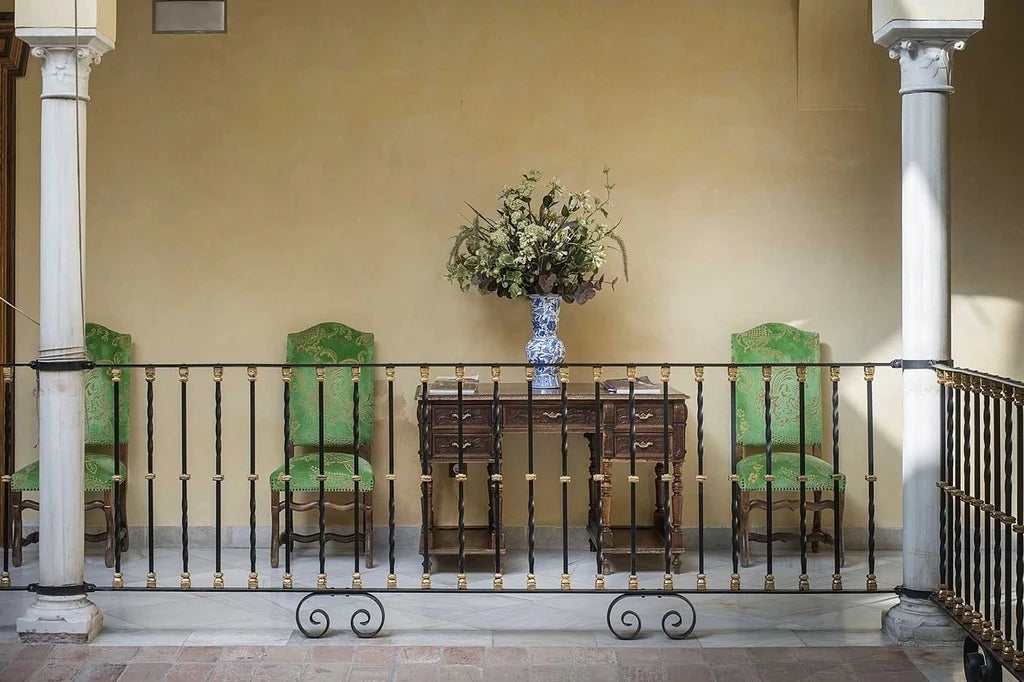 Seville, is the heart of Spain's Andalusia region - a lively city whose many cultures are reflected in its cuisine, architecture, music and history.
Some very special things to do: 
Personally I don't agree with bullfighting, but I think it's still beautiful to visit the Plaza de Toros de la Maestranza. Built in 1758, this is the oldest bullring in Spain.  If you don't want to witness an actual bullfight, you can still learn everything about the tradition by taking a guided tour. 
Recently reopened after restoration, the Galería del Grutesco is a sculpted walkway where you can enjoy performances of dance, music and theater that bring the history of the captivating Alcazár palace to life.
Enjoy the majestic beauty of the Seville Cathedral. The Pardoner's door is the original entrance to the mosque that preceded the cathedral on this sacred site.
Climb up the Giralda Bell Tower — formerly the mosque's minaret for spectacular views.
El Palacio Andaluz is the flamenco venue I would highly recommend as it is frequented by locals and tourists alike - seeking to experience the indescribable passion of gypsy soul and dance. 
Seville is the ideal place to try a range of Andalucían specialities. Try dishes like marinated fish fried in olive oil, delicious croquetas, huevos revueltos and jamón Ibérico. Refresh yourself with a tinto de verano, and enjoy some Tapas at Tipico  or  El Rinconcillo. Book dinner on another day at  Abantal — a Michelin-starred restaurant where you can enjoy its avant-garde tasting menu with a modern twist on Andalusian cuisine.
Where to Stay:
My first option is a classical recommendation- Alfonso XIII
With its azulejos tiles, patios and fountains-  it's really hard to be more typical than the Hotel Alfonso XIII. The palace, which opened in the 1920s, continues to attract a very chic crowd. The hotel's rooms alternate Andalusian, Castilian and Moorish decorative styles; with grand stairways, sweeping corridors and ornamental patterns. I truly had a memorable stay here. 
Palacio Villapanés
This Baroque palace named after the marquis of Villapanés, whose descendants lived in it until just a few years ago!  It's a step into history, although contemporary designers like Patricia Urquiola have helped to create the spaces you see today.
Las Casas de la Judería
Discover century old fountains, statues, pedestals and columns around every corner as you find your way to the rustic elegance of your room. The underground spa is a plunge into Ancient Rome, where the walls are lined with marble mosaics.
Unuk
Unuk is located in the 'Soho' district, a flourishing barrio for contemporary art galleries, independent clothing outlets and artisanal shops. Very much adored by a younger stylish crowd. 
WHERE TO GO SHOPPING 
Although Calle Sierpes is the most famous street, neighboring ones like Tetuán, Rioja and Velázquez are also nice options to check out.  
What I adore seeing here are the stylish Spanish brands like Vittorio & Luchino, Adolfo Domínguez and Purificación García and of course the beautiful flamenco fashion shops that range from commercial to hand sewn couture pieces.  Some shops to check out are: Luchi Cabrera and Elena Bernal. When you go shopping in Europe you will always find joy in exploring and entering little specialized stores where you can find treasures ranging from hats, to gloves to vintage stationary.  One of those shops is called Populart. Here you will find Azulejos tiles, handmade ceramics, religious engravings, and even vintage toys…The owner has been accumulating a myriad of decorative treasures since the 1970s.