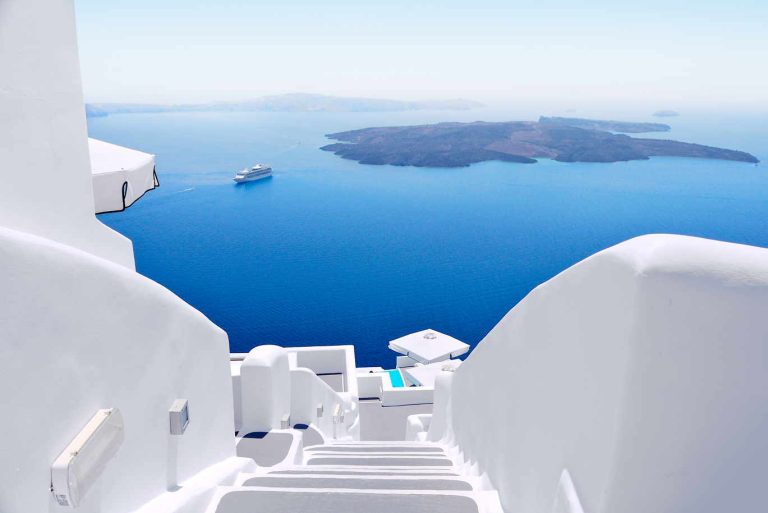 Mykonos, is one of the most visited islands in the world, known for their beaches, sunsets and glamorous nightlife. It also has a rich history. There's evidence of this history around every corner, from the narrow streets and 16th century windmills of the main town to the 18th century houses of Little Venice, where people flock every day to enjoy a glorious sunset and cocktail at Caprice.  I am going to share some of my personal recommendations that will make your visit truly special.
WHERE TO STAY IN MYKONOS:
WHERE TO EAT IN MYKONOS 
I've compiled below my list of favorite restaurants in Mykonos! Top two are definitely Spilia for a long lunch and Scorpios for an early dinner that ends up in a long night of dancing and parties.
Don't forget to try artisanal produce local specialties like Louza (spicy cured pork) and Kopanisti (spicy soft cheese). Add a bottle or two of local Assyrtiko wine. The best places to eat in Mykonos serve octopus and squid plucked from the sea that day like at Spilia. Make sure you try spiny lobster, red mullet, prawns and other fresh, local  fruits de mer.
Hippie Fish-

Located on Agios Ioannis beach, one of the most beautiful stretches of beach that the island. It specializes in local fish dishes from crab and lobster by the kilo to sea-urchin spaghetti.

Avra- Offers traditional Greek cuisine, such as shrimp saganaki or stuffed vine leaves. The outdoor patio is candlelit and covered in greenery making it a perfect romantic option.

Remezzo

is a perfect and fun spot for dinner.  

Spilia, which is my top pick, is nestled into a cave at Agia Anna next to Kalafatis beach, and offers a perfect sea-to-table menu. 

Scorpios- Combining rustic beach bar charm with fascinating sculptures and a chilled TULUM spiritual vibe, Scorpios is probably the trendiest beach club in the island. 

Alemagou- day time beach club/and I recommend a nice- long lunch - This surfer-chic club, is located on Ftelia beach. 

Nammos- The decadent and probably most expensive lunch party on the island.  It has been a Mykonos institution for international jet-setters since it opened in 2003.
WHAT TO DO IN MYKONOS
There are countless beautiful beaches around Mykonos, so be sure to check out my favorites Psarou and Paraga! 
This famous stretch of seaside restaurants, bars and shops is a great spot for evening strolls at sunset. Caprice is where you want to go for a cocktail at sunset. 
SCUBA DIVE & KITESURF
Discover ancient Greece… underwater! Dive to ancient shipwrecks and check out the sea life at the reefs. 
Another must-see is the windmills of Mykonos. They are one of the most iconic symbols in Mykonos and some date back to the 16th century.
I fell in love with the boutiques of this island. I adore jewelery and it was here I visited one of my favorite jewelry designers, Ilias LalaOunis. Read more about this incredible jeweler.  "Mykonos Is A Place That Has Given Us A Lot, Most Of All Inspiration, Through The Traditions Of Cycladic Art And The Simplicity Of Its Architecture." Aikaterini Lalaouni.
SADH- Sadh, meaning 'prayer', alignment with soul/essence, was created by Eleftheria Nikolakopoulou. One of my favorite boutiques in the island. 
Elena Makri Mykonos is dedicated to a luxurious resort living lifestyle uniquely inspired by the islands of Mykonos and Delos, a modern interpretation of the timeless Greek qualities of simplicity, harmony and high quality, reflected in the designs and the jewelry that adorns them.
Like I always say, its good to have a guide to make sure you have some ideas on what you want to do but there is nothing like getting lost and exploring what you love without a plan and itinerary. It truly is part of what makes traveling so magical. Enjoy! Yasas ( Cheers in Greek).