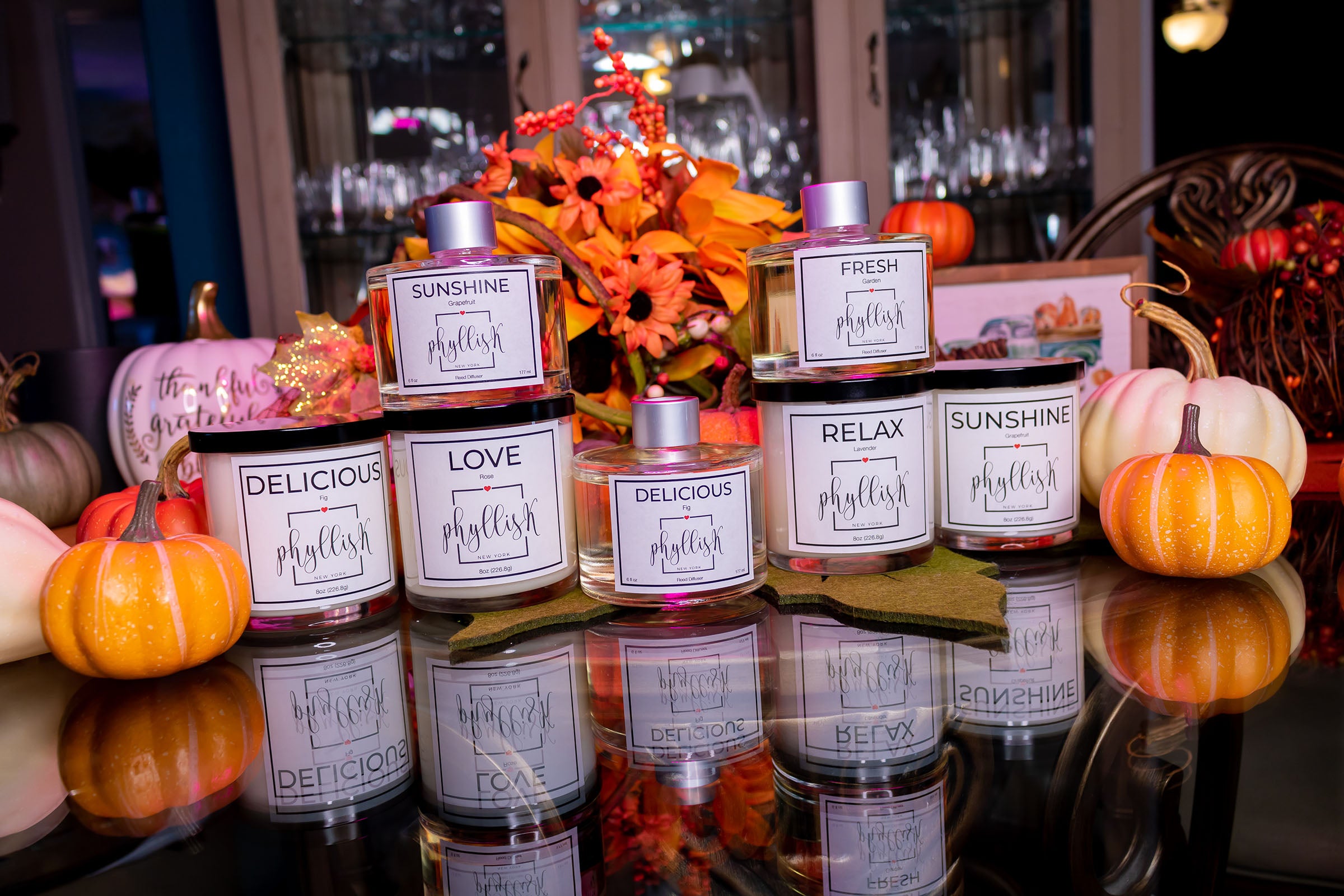 Fall brings about not just the changing of the seasons but the beginning of the holiday season. Even if you're not a huge "candle person" you can relate to some of the scents related to the holidays. Whether it's Mint for the holidays or a little garden scent to keep summer alive indoors, we all have those go -to scents we just MUST HAVE for the fall. 
Although there are traditional scents associated with this time of the year, we've put together a fresh eclectic mix of scents that are sure to have your loved ones asking over holiday get-togethers  what that "wonderful smell is".
Not only do scented soy candles & reed diffusers add a touch of fragrance to your home, but they also Fill your home with holiday joy & great mood lighting. 
The candles we've listed below make for great additions to gift to friends and help add a little festive sparkle to your tabletops.
SUNSHINE- Grapefruit
Although traditionally considered more of a summer scent, we've realized that a lot of our Northern visitors like to keep summer going indoors during the winter time by bringing summer scents into their homes for the winter. The bright citrus scent of our Sunshine candle helps do that by transporting you to the South Pacific, taking you back to those Beach cabana days in the summer.
RELAX- Lavender
A classic and favorite all year around, Lavender scents help you relax. When you breathe in the scent of our Lavender scented soy candle you can feel the tops notes of bergamot mix with the bottom notes of cedar and sage  begin to ease your breathing and wash over you a sense of calm which is often associated with Fall.
Now don't fret, if you're not a fan of scented soy candles, we also put together some scented reed oil diffusers and Artisan made soaps we are certain you and your visitors will love during your next dinner party. 
Visit our Fall 2021 curated list of scents to find your 2021 Fall scent Must-Have!
If you enjoyed this blog, make sure to subscribe for more "Scent-ual" hacks in candle care.
Have a topic  you would like covered? Just want to say hi? Drop us a line at info@phyllisknewyork.com  we love hearing from you!
---