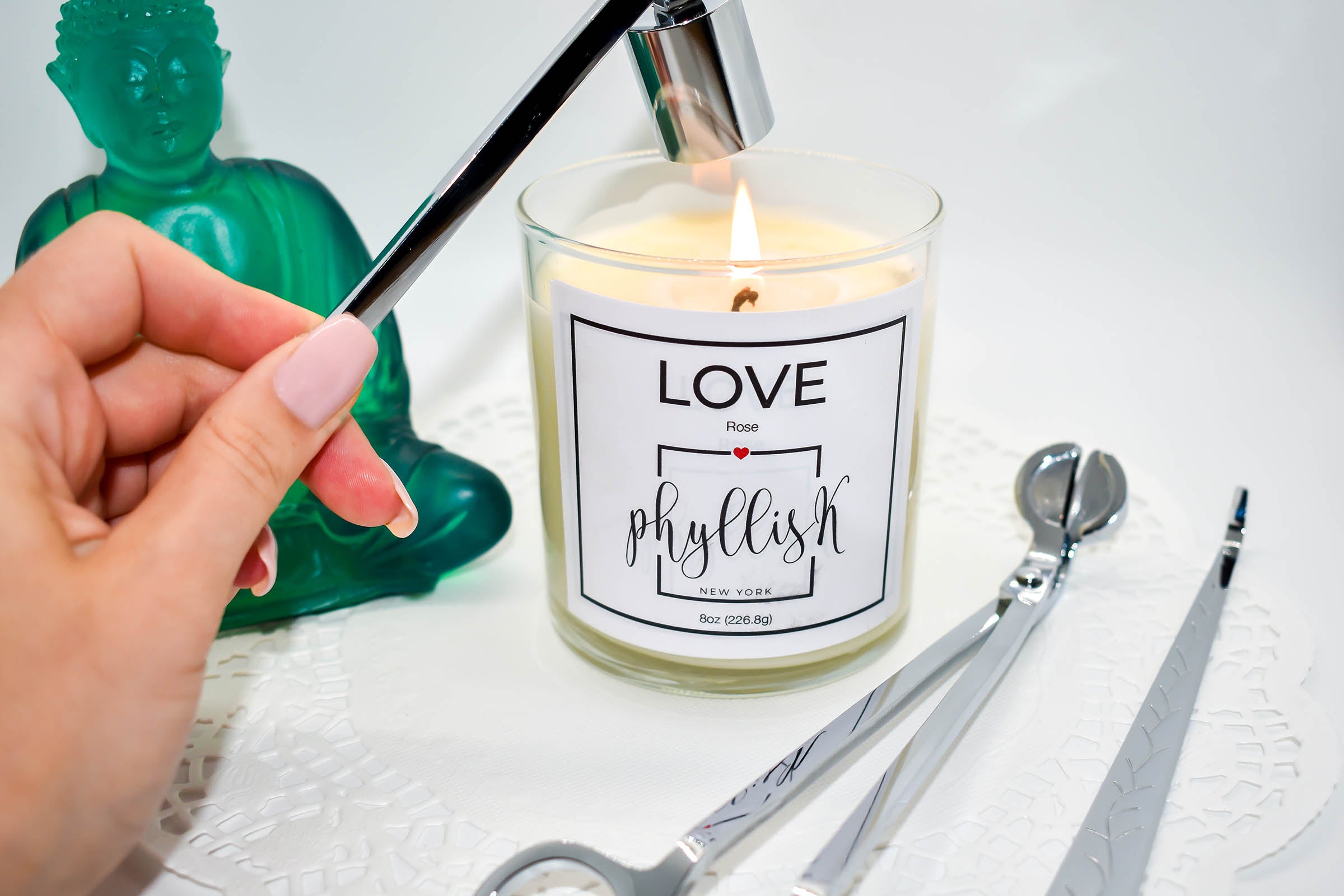 So you've upped your love for candles and are looking to really impress your other candle loving friends?
Follow these TOP 10 HACKS on the best way to get the most out of your soy scented candles and awe your friends when you pull out your new Stainless steel Candle accessories pack.
TIP #1
Always use your Wick Trimmer and trim ¼ inch of your wick before each burn, doing so gives you a cleaner burn with less smoke.
TIP #2
Make sure to always straighten your wick after snuffing or blowing out your candle to ensure a longer and more even wax melt.
TIP #3
Burn candles in well-ventilated areas to help the fragrance reach further in your space.
TIP #4
Use a candle wick dipper to keep your wax pool clear of wick trimmings, matches and debris as this will alter the scent of your candle.
TIP #5
You should always keep burning candles away from drafts, vents, fans or air currents to ensure an even candle burn.
TIP #6
Always let a candle cool completely before re-lighting.
TIP #7
Burn regular sized candles 3-4 hours at a time to allow scent to fully spread.
TIP #8
Best ambient for candle burning is between 65-75 degrees Fahrenheit.
TIP #9
When burning multiple candles, make sure to place them at least 8 inches apart to give the scents space to be enjoyed individually.
TIP#10
When your candle is burning unevenly and the wick is centered that means, it's in a draft.
You've made it! Now you're ready to impress your friends, family and next door neighbor at your next dinner party, date or group meditation. 
If you enjoyed this blog, make sure to subscribe for more "Scent-ual" hacks in candle care.
Have a topic  you would like covered? Just want to say hi? Drop us a line at info@phyllisknewyork.com  we love hearing from you!
---