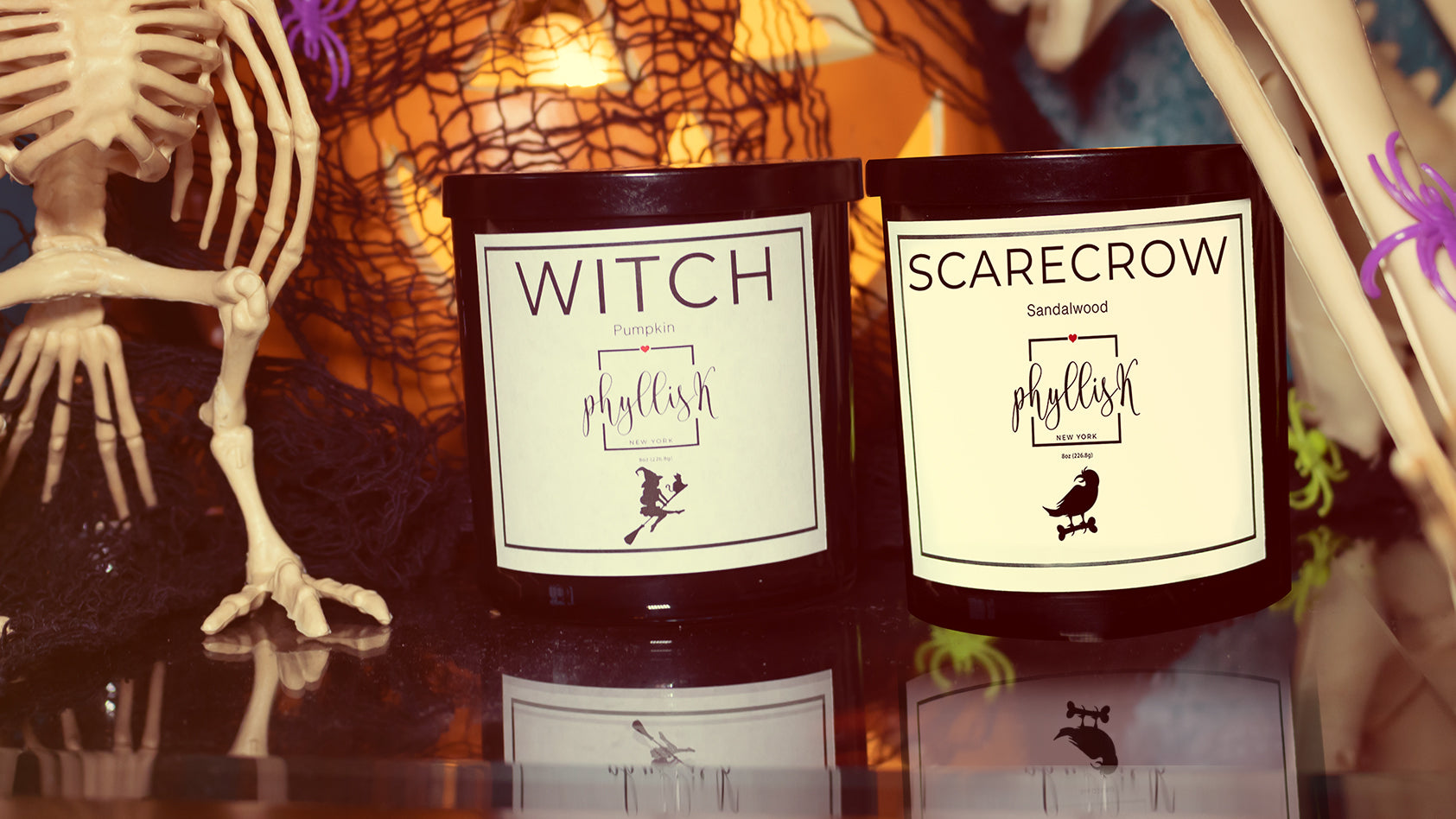 To celebrate things getting back to somewhat a new normal (if we can call it that), we wanted to celebrate this halloween by bringing you not 1 but 2 new candles right out of the cauldron and into your mitts.
 Deep within the forest where our fragrant oils & candles come from live's a witch. This halloween we've gathered scents from deep within her cauldron to bring you rich notes of Cardamom & Ginger with middle notes of Anise, Nutmeg & Cinnamon. To bring it all together we used a vanilla/ Pumpkin base that will have you hollering at the moon & taking out your favorite broom stick for a midnight flight.
Not a Fan of pumpkin? No problem, that's what Scarecrows made of Sandalwood are for! We know that some of you prefer to keep summer all year around, yet that doesn't mean we can't enjoy some halloween decor. The new Scarecrow candle is just that, themed for halloween but smelling of summer, this scent is provocative, sexy and alluring. Yep I am pretty sure I just used Scarecrow and sexy in the same sentence. Don't believe us? Order one now and you be the judge.
Now although things are getting back to somewhat normal we wanted to also provide you with some fun Halloween themed ideas for those looking to stay indoors this halloween season.
Here are 5 things to do at home this Halloween:
Horror Flick Fest- Grab the popcorn, light your witch candle & invite your favorite cuddle buddy over for a night of fright.

Mystery Candy Clue Fest- A great alternative to those with young kids. Think of this like a cross between easter Sunday and halloween. Create some spooky clues, maybe hide a couple of surprises and for the finale have them find a huge stash of candy!

Halloween Dinner Party- Shock and awe your friends when you pull out your meatloaf Hand with a side of ghostly mashed potatoes.

Have a Virtual Halloween Party- There's so many new ways to celebrate virtually, whether it's through Zoom, your favorite video game or even in the meta-verse using your favorite virtual headset, the possibilities are endless.

Make your home the talk of the neighborhood- Setup a fun evening with your neighbors with a series of outdoor skits for those wondering trick or treaters. Scare, awe & surprise them by setting up fun little spooky scenes with your kids, neighbors and friends. Remember to practice social distancing and wear a mask and you should be good to go!
If you enjoyed this blog, make sure to subscribe for more "Scent-ual" hacks in candle care.
Have a topic you would like covered? Just want to say hi? Drop us a line at info@phyllisknewyork.com we love hearing from you!
---