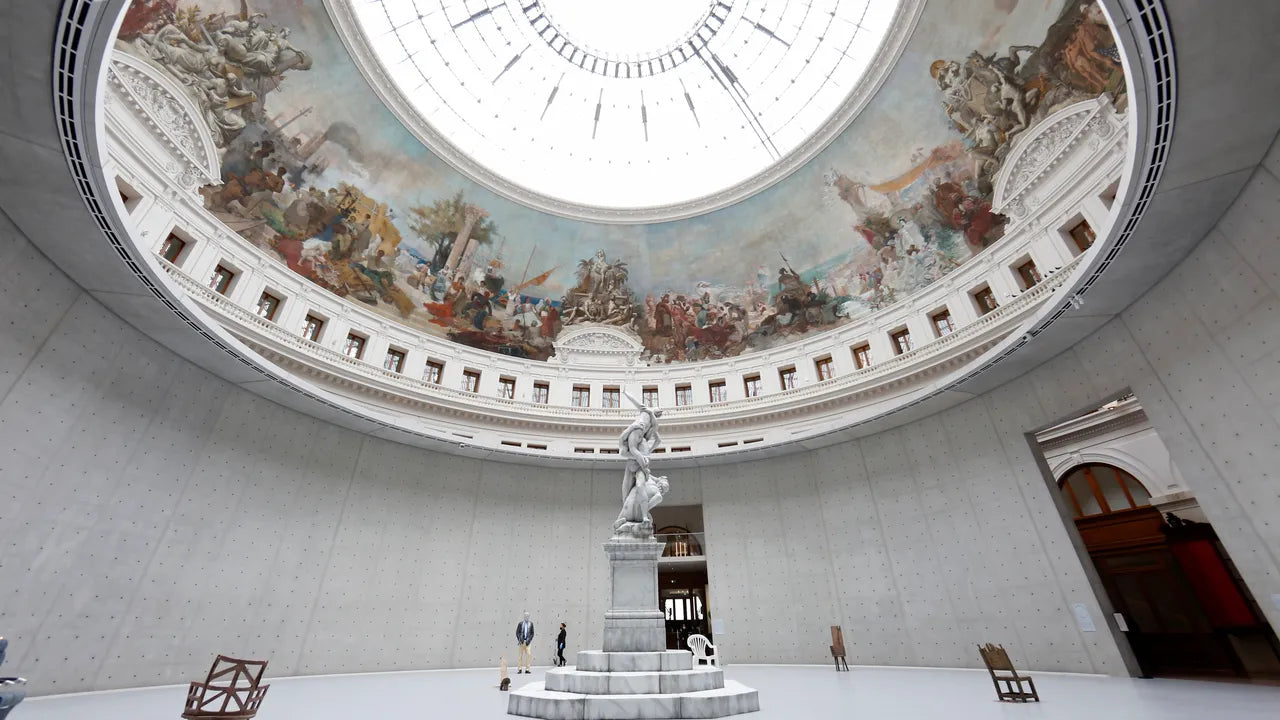 Paris, the city of lights and love.
I've been in Paris enjoying the summer visiting boutiques, and galleries, exploring new neighborhoods, and enriching my creative spirit by visiting some of the most exciting art foundations in the world. I felt it was important to share these visits because this is what makes traveling so special and of course, memorable.
The Pinault Collection is housed in the Bourse de Commerce building, close to the Louvre. Named for the impressive 10,000-piece private collection of contemporary greats from arts patron and billionaire François Pinault (founder of Kering-husband to Salma Hayek), the domed building was restored by the award-winning Japanese architect Tadao Ando over the course of a decade. The space is majestic.
The vision is to highlight the works from Pinault's own collection, primarily contemporary work: paintings, sculptures, photographs, and objects by notable artists such as Cy Twombly, Cindy Sherman, Damien Hirst, Jeff Koons, and hundreds more. The museum's goal is not to have a standard permanent collection but instead, what you'll see on a visit is ever-rotating pieces from the collection and temporary exhibits that feature an infinite diversity of work.
Current Exhibition: Avant L'Orage
Against the backdrop of the climate crisis, in the urgency of the present, before the storm breaks again, the artists in the exhibition invent unusual ecosystems that contain new seasons.
In the other spaces, a display from the Pinault Collection supports this birth of a new cycle of seasons in the making, of mutating ecosystems, of micro-territories in gestation, bathed in a light approaching a mutating climatic dusk. Hicham Berrada's Présage, which immerses the visitor in a landscape in the throes of transformation, makes us aware of the beauty of a world without us. Diana Thater's Chernobyl takes us into an irradiated landscape, an apocalyptic theatre, while Pierre Huyghe's film follows the movements of a monkey wearing a human mask, abandoned in the outskirts of Fukushima. Robert Gober's Waterfall depicts a trompe l'oeil nature from which we are irretrievably separated, while Pierre Huyghe's Untilled (a play on the words "untitled" and "uncultivated") recreates the world as experienced by non-humans, from dogs to insects, in a compost committed to new possibilities for fertilising the world.